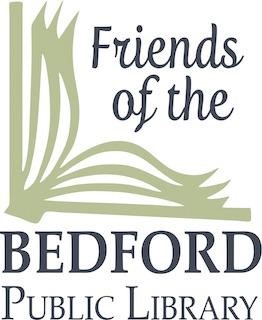 Love the Bedford Library and want to help but don't know how?
Join the Friends of the Bedford Library!
We are like a fan club for the Bedford Library!
Who are the Friends of the Bedford Library and what do we do?
The Friends are a 501(c)(3) nonprofit that raises money to fund items on the Library's wish list through membership and fundraisers. We also host events like the Sunday Concerts and Cookies series held October through April.
Celebrate National Friends of the Library Week October 17-23!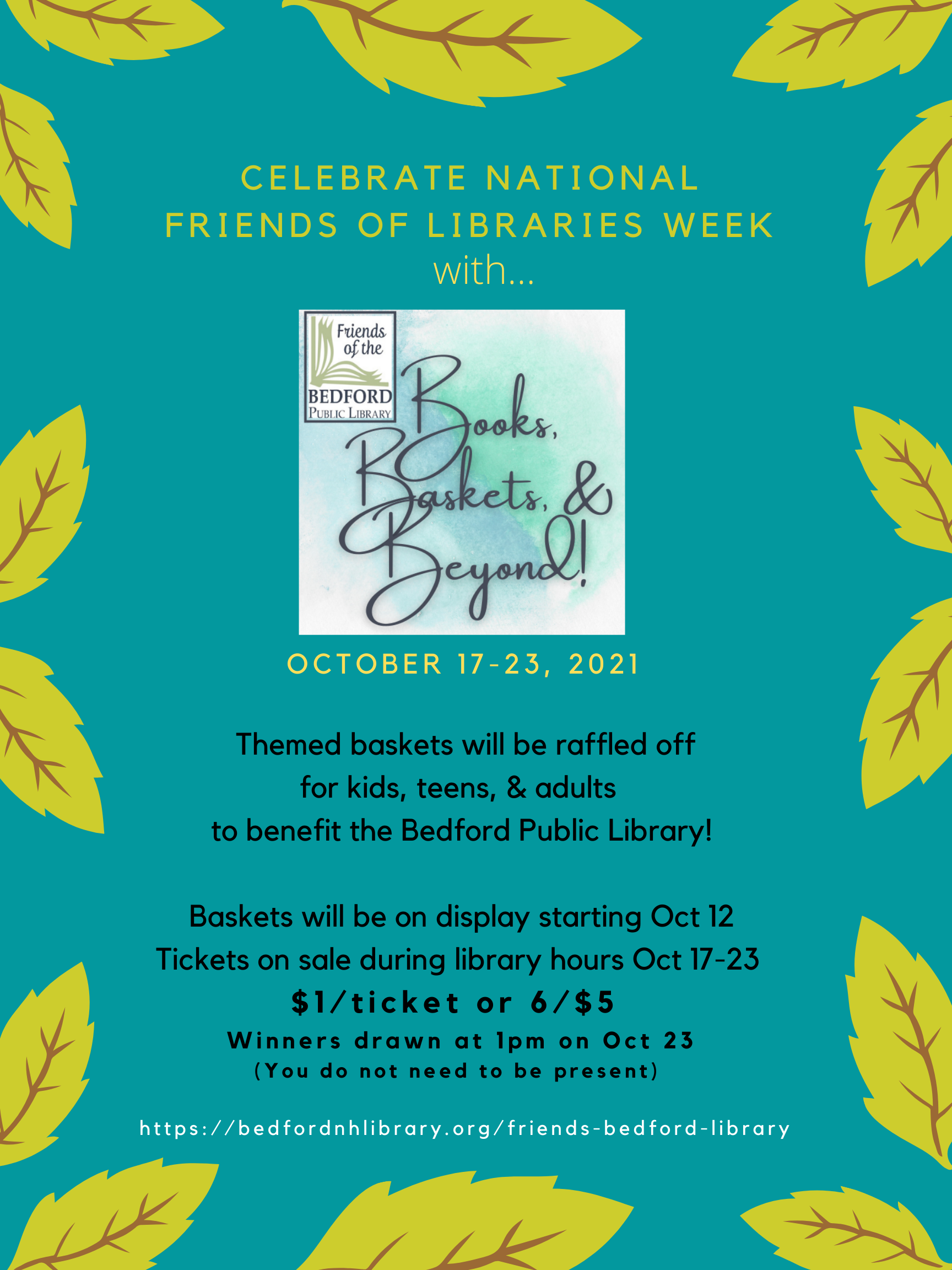 The Friends of the Bedford Public Library will be hosting a fundraiser for the BPL during National Friends of the Library Week!
The event, Book, Baskets, & Beyond! will showcase several themed baskets geared for children, teens, and adults.
Items for the baskets are generously donated by local businesses, community members, authors, illustrators, artists, and musicians. Baskets will be displayed at the Bedford Public Library starting October 12.
Raffle tickets will be for sale from October 17-23.
Ticket prices are $1 per ticket or $5 for 6 tickets, or $20 for 25 tickets. Proceeds from the event will help the Bedford Public Library to fulfill its wish list.
You do not need to be present to win. We will call you. Winners can pick up their basket from the library during library hours. Baskets should be picked up within one week of the drawing. If no attempt for pick up, a new name will be drawn. Baskets can not be shipped. 
To purchase tickets online, please fill out this google form to select which baskets you would like tickets to. Then pay for them via the PayPal donate button below by Friday, October 22nd at 6pm. After payment has been received, we will add the tickets to the buckets for you with your information. 
Descriptions of the baskets can be found here.

Here are some of the items that the Friends have sponsored for the Library:
Imaginative play toys in the Children's room (ex. Kitchen and accessories)
New 3D Printer and filament
Filament used by the previous MakerBot 3D printer
Items for the Children's Summer Reading program
World Globe
T-shirt for new staff members
Volunteer thank you gifts
Poinsettia decorations at the holidays 
Becoming a member is easy!
Fill out a membership form online or ask the front desk for a membership form!
Pay your membership dues of just $15
Membership dues renew annually in June
Dues can be paid via cash, check (payable to: Friends of the Bedford Library), or Paypal

What do I "get" as a member?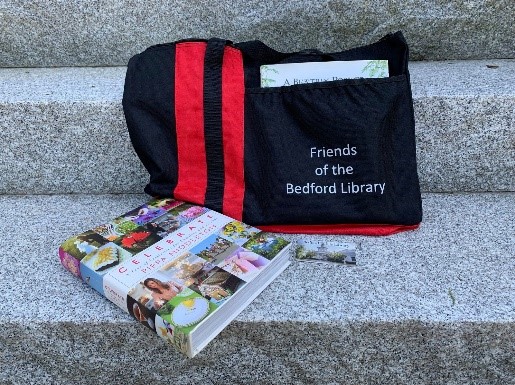 A Friends of the Bedford Library tote bag & Library Card Sticker
Member only benefits at Friends hosted events
Meet new people when volunteering at our events -- at some activities kids can help too!
Input on new ideas for all ages at the library
High School members can earn community service hours
Do I have to volunteer if I become a member?
Only if you want to! We have different time commitments for the different events that we do.
For more information, please email us at friendsofthebedfordlibrary@gmail.com or stop by one of our Board meetings, which are held at the Library in the New Hampshire Room on the first Tuesday of each month at 7:15 p.m. from September through May. (Meetings are currently being helped via zoom due to Covid-19)
Officers
President - Catherin Weeks
Vice President - OPEN (e-mail the Friends of the Bedford Library if interested in joining as an officer)
Secretary - Ann Edwards
Treasurer - Adair Heyl
Concert Coordinator - OPEN (e-mail the Friends of the Bedford Library if interested)
Director of Membership - Stephanie Williams
Director - OPEN (e-mail the Friends of the Bedford Library if interested in joining as an officer)
Contact Information:
E-mail: friendsofthebedfordlibrary@gmail.com
Facebook: @FriendsBedfordLibrary